A day trad­er has been ar­rest­ed and charged for op­er­at­ing a "pump and dump" scheme — on Twit­ter.
Steven Gal­lagher, through his Twit­ter alias@AlexDe­large6553 (named af­ter the fic­tion­al char­ac­ter in "A Clock­work Or­ange"), al­leged­ly tout­ed and en­cour­aged his 70,000 fol­low­ers to pur­chase shares in En­zolyt­ics, a Texas-based biotech de­vel­op­ing mon­o­clon­al an­ti­bod­ies and trad­ing over the counter, among oth­er pen­ny stocks.
As part of the en­force­ment, the SEC has se­cured a court or­der to freeze up to $6.9 mil­lion worth of Gal­lagher's as­sets, in­clud­ing stocks cur­rent­ly held in bro­ker­age ac­counts owned by him­self or his wife. An in­ves­ti­ga­tion is on­go­ing.
Gal­lagher was ar­rest­ed in the North­ern Dis­trict of Ohio on Tues­day af­ter­noon. As of Wednes­day morn­ing, his Twit­ter ac­count is no longer ac­tive.
"As al­leged, Steven Gal­lagher brought old-school boil­er room tac­tics to the Twit­ter age, and op­er­at­ed a so­cial me­dia pump-and-dump scam that de­fraud­ed or­di­nary in­vestors, all so that he could make over $1 mil­lion in prof­its," said Dami­an Williams, the Unit­ed States At­tor­ney for the South­ern Dis­trict of New York. "To­day's ar­rest of Gal­lagher demon­strates that this Of­fice and our law en­force­ment part­ners will be vig­i­lant as se­cu­ri­ties fraud schemes move on­to Twit­ter and oth­er forms of so­cial me­dia."
Ac­cord­ing to an un­sealed com­plaint fea­tur­ing a de­po­si­tion by Kingston Moy, a spe­cial agent with the Unit­ed States De­part­ment of Home­land Se­cu­ri­ty, Home­land Se­cu­ri­ty In­ves­ti­ga­tions, Gal­lagher lured oth­er re­tail in­vestors to pur­chase cer­tain stocks through false and mis­lead­ing state­ments in tweets and Twit­ter di­rect mes­sages, as well as ma­nip­u­la­tive trad­ing.
En­zolyt­ics, one of the cas­es Moy cit­ed, fit in­to that broad­er pat­tern.
As Moy told it, Gal­lagher was al­leged to have bought his first 3 mil­lion shares of $EN­ZC at $0.0007 per share, on or about Ju­ly 14, 2020. He then kept build­ing a stake un­til Sept. 16, at which point he held about 7 mil­lion shares. Mean­while, he made sure to let his Twit­ter fol­low­ers know about the in­vest­ment.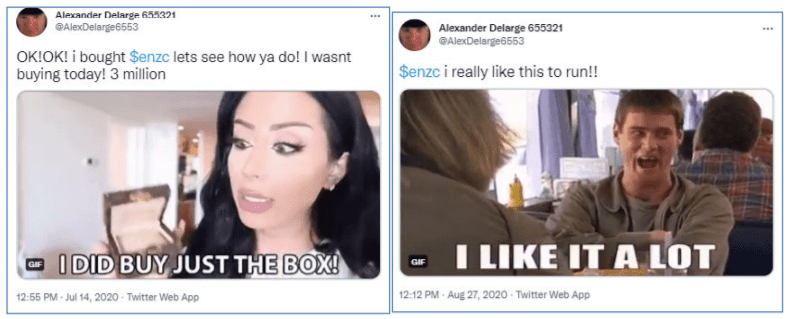 On Sep 16, he sold 3 mil­lion shares. Not that his Twit­ter fol­low­ers would no­tice: That same day, he sent a se­ries of en­thu­si­as­tic tweets re­mind­ing them of his in­vest­ment in the biotech, flag­ging an up­com­ing merg­er and en­cour­ag­ing oth­ers to "Load!! this!"
One of his mul­ti­ple tweets that day read: "$en­zc Will be #1 on my list do [sic] to this ma­jor med­ical news!! the buy­ers in the morn­ing will be many!! Alot [sic] less than now!! just satin [sic]."
The tweets kept com­ing over the next few days, when he tweet­ed en­dorse­ments like: "$en­zc still my #1 great run;" "$en­zc must own #1;" "$en­zc stock of the year!! great start;" and, "This is gonna be a life chang­er. I heard someome [sic] bought 70 mil­lion shares to­day!! Some­one knows what this merg­er means!!! I do!!"
On Sept. 22, he fol­lowed up with tweets call­ing En­zolyt­ics a "long hold" for him, high on his list and say­ing it's "buy­ing time," when in fact he had al­ready sold al­most all of his shares.
Bro­ker­age records and SEC in­for­ma­tion sug­gests that Gal­lagher pock­et­ed around $160,000 in prof­its from his En­zolyt­ics trad­ing. At least two un­named vic­tims, how­ev­er, claimed to have lost thou­sands of dol­lars af­ter fol­low­ing Gal­lagher's ad­vice.
John Maraganore, the determined Alnylam CEO who led the company through thick and thin to help birth the RNAi revolution, is on his way out of the executive suite.
In a surprise announcement Thursday morning, Maraganore said that he will hand the reins to current president Yvonne Greenstreet at the end of the year, marking the end of a 20-year run as the founding CEO of the storied company. He will stay on through the first quarter as a consultant and will take a seat on Alnylam's scientific advisory board.
Unlock this story instantly and join 121,100+ biopharma pros reading Endpoints daily — and it's free.
Strategic partnerships have long been an important contributor to how drugs are discovered and developed. For decades, big pharma companies have been forming alliances with biotech innovators to increase R&D productivity, expand geographical reach and better manage late-stage commercialization costs.
Noël Brown, Managing Director and Head of Biotechnology Investment Banking, and Greg Wiederrecht, Ph.D., Managing Director in the Global Healthcare Investment Banking Group at RBC Capital Markets, are no strangers to the importance of these tie-ups. Noël has over 20 years of investment banking experience in the industry. Before moving to the banking world in 2015, Greg was the Vice President and Head of External Scientific Affairs (ESA) at Merck, where he was responsible for the scientific assessment of strategic partnership opportunities worldwide.
John Maraganore knew that people would be surprised when Alnylam announced his departure this morning after 19 years as CEO of the company. But he said it shouldn't come as too much of a shock.
"Nineteen years as a CEO leading Alnylam has been the greatest joy of my life, but 19 years has been a long time," he said in an interview Thursday morning. That's "being in the 24/7 operational mode of running a company for 19 years."
The small executive team at Cardurion has been sticking carefully to its goals, in-licensing a lead cardio drug from Astellas in 2018 and making a careful trek into human studies as they advanced a follow-up program and gradually built out another preclinical prospect.
Involved in one of the most grindingly tough fields in drug R&D, they never thought much of touting their work. They did deals with Takeda and Pfizer without making much of a show of it. Even established a small operating unit in Japan. Polaris invested, but no one ever said how much — or much about why.
Unlock this article along with other benefits by subscribing to one of our paid plans.
As a biopharma exec, Philippe Lopes-Fernandes had followed Ipsen's $1.3 billion buyout of Clementia and what then-CEO David Meek called a "largely derisked" rare disease program.
He also watched the ensuing setbacks that led to some serious delays in the company's timeline, Meek's resignation, and a scrapped indication. So when the company reached out early last summer to see if Lopes-Fernandes was interested in the open chief business officer position, he thought it would be a "nice challenge."
Unlock this story instantly and join 121,100+ biopharma pros reading Endpoints daily — and it's free.
In September, Biocon got out in front of a Form 483 it was handed by the FDA in a rare out-of-the-country inspection, insisting that the hiccup would not hinder its plans for the commercialization of insulin aspart in the US.
Now, after it's been released to the public, that Form 483 highlights an unqualified distribution system, inadequate aseptic monitoring and leaky drains, among other issues at its Malaysia subsidiary.
Changes are coming to Aspen Pharmacare's plant in Gqeberha, South Africa.
The company will open the largest anesthetics manufacturing line in the southern hemisphere at the same site that it fills and packages the J&J Covid-19 vaccine, the company's CEO Stephen Saad told reporters Monday.
The expansion could generate another $542 million in revenue a year. In 2018, Aspen started manufacturing drugs for late-stage cancer, autoimmune illnesses and Parkinson's disease. Just last year, it started fill-finish operations for the J&J jab.
Jaguar Gene Therapy will join the North Carolina biotech manufacturing community, with a $125 million investment in a 174,000 square-foot facility that will sit down the road from the company's Cary, NC laboratory.
The already-existing site will be converted to the company's manufacturing specifications and support clinical and commercial manufacturing of its initial programs, including galactosemia, a specific genetic cause of autism, and Type 1 diabetes. The first therapies are likely to enter the clinic in 2023.
Unlock this story instantly and join 121,100+ biopharma pros reading Endpoints daily — and it's free.
A Catalent site outside of BWI Airport in Baltimore is getting an upgrade.
The Somerset, NJ-based manufacturer will pump $230 million into the site in order to add three more viral vector manufacturing suites and associated services in Harmans, MD, to meet an increase in demand.
Right now, the site includes a facility with 10 commercial-scale manufacturing suites. A second facility is currently being built as part of another $130 million project Catalent initiated in 2020, and will add another five manufacturing suites that, if all goes according to plan, will be operational in mid-2022.
Unlock this story instantly and join 121,100+ biopharma pros reading Endpoints daily — and it's free.
Bioscience & Technology Business Center
The University of Kansas
Lawrence, Kansas<!–
2029 Becker Drive,
(785) 813-1733 –>
© Endpoints Company 2021
If you're already an Endpoints subscriber, enter your email below for a magic link that lets you log in quickly without using a password. Please note the magic link is one-time use only and expires after 24 hours.
We'll e-mail you a link to set a new password. Please note this link is one-time use only and is valid for only 24 hours.
ENDPOINTS NEWSby John Carroll & team — all the news at 11:30am ET
EARLY EDITIONby Arsalan Arif — news and links at 7:15am ET
ENDPOINTS MANUFACTURINGWeekly biopharma manufacturing report, Thursdays at 2pm ET
ENDPOINTS WEEKLYRecaps the most important developments on Saturday 6am ET
ENDPOINTS FDA+Regulatory news and analysis for drug developers, Wednesday 2pm ET
ENDPOINTS MARKETING RXCovers advertising and the multibillion-dollar drug commercialization world, Tuesday 2pm ET